Bath
Good quality ensuite accommodation and excellent sports facilities on the University of Bath campus, only 2.5 km from the UNESCO world heritage city centre.
Outstanding sports facilities
Ages 10-17 (Groups only)
30/06/2024 - 11/08/2024
Single ensuite
Single with shared bathrooms
Why choose this centre?
UNESCO World Heritage city with many attractions for the student visitor
Outstanding sports facilities on campus
Good location on the edge of the city, surrounded by countryside but only 2.5 km from Bath city centre
Quality single ensuite accommodation
Trinity GESE Exam included in the package price for all students staying 2 weeks or more
Campus
Our summer school takes place at the University of Bath campus, only 2.5 km from the beautiful UNESCO World Heritage city centre. The university offers good quality residential accommodation and superb sports facilities in a campus environment close to the city. Bath has many attractions to offer the student including stunning architecture, great shopping and iconic attractions such as the Roman Baths and the Royal Crescent.
Centre capacity: approximately 400 students.
Accommodation
Ensuite residence: single bedrooms with private ensuite bathrooms arranged in apartments of 8 – 10 bedrooms
Standard residence: single bedrooms with wash basins in each room and shared bathrooms. Arranged in houses of 11 – 13 bedrooms
Standard accommodation has a shower ratio of 1:4 – 1:6
Shared kitchen/common rooms in each apartment or house
Rooms cleaned and bed linen & towel changed once per week. Bedroom key, bed linen and one towel provided
Damage deposit of £40 or 40 Euros taken on check-in and refunded on departure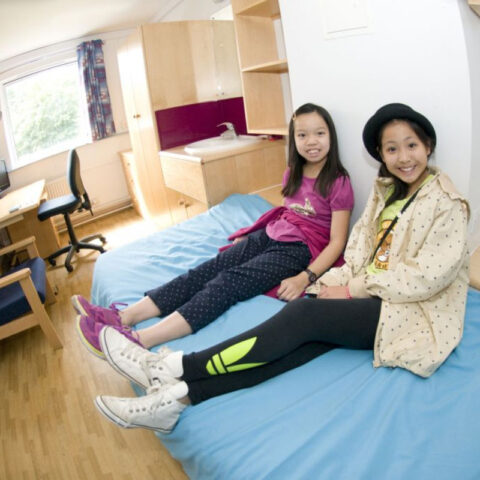 Sports Facilities
Sports hall for volleyball, basketball, badminton and indoor games
Tennis courts
2 outdoor beach volleyball pitches
Several all-weather courts
Other Facilities
Student Union disco
Lecture theatre with large screen for film nights
Coffee shops, supermarket, post office and ATM on campus
Landscaped grounds
Self-service laundry (approx £8 for a wash & dry)
Free wi-fi internet access throughout the campus
Activities
2 week activity programme includes:
3 full day excursions: London,  Oxford & Cardiff & Castle
Half day excursion to Stonehenge
5 half day visits to Bath city centre
Entrance to Roman Baths
Download our sample activity programme
Location
Local travel
2.5km / 10 minutes by bus to city centre
Bus stop on campus, frequent service every 10 minutes
Local travel costs included for programmed visits to Bath
Airports
London Heathrow (LHR): 120 minutes
Bristol (BRS): 45 minutes
London Gatwick (LGW): 150 minutes
Birmingham (BHX): 120 minutes
Centre address: University of Bath, Claverton Down, BA2 7AY