General English Course
Available in all locations
Course objective
Our aim is to develop students' fluency skills and build their confidence in a friendly, supportive and stimulating environment. We want our students to leave the course with a better understanding of UK culture and the inspiration to become life-long learners of English.
General English course information:
Course length: Minimum 1 week, maximum 4 weeks
Start dates: Any Monday during available dates
Ages: 10 – 17
Levels: 6 Levels from beginners (A1) to advanced (C2)
Hours: 15 hours of General English language tuition per week (20 lessons per week. Each lesson is 45 minutes)
Maximum 15 students per class (*except Hatfield)
Trinity Graded Examination in Spoken English (GESE) for students staying 2 or more weeks is included in the package price
Oral and written placement test to select class level
In-house syllabus based on the Common European Framework of Reference for Languages
Notebook and all course materials included
Activity Book for excursions & local visits
End-of-course report and attendance certificate awarded upon completion of the course
Morning and afternoon teaching timetable operates in peak weeks. Students alternate weekly between morning classes and afternoon classes (*except Hatfield *)
Class times are usually 09:00 – 12:30 and 14:00 – 17:30. Exact times of classes may vary dependent on campus
Optional 3 hour Enterprise English Workshop per week for students aged 14+ with minimum B1 level is included in the package price (See below for details)
*Hatfield – lessons are mornings only and maximum class size is 18 students*
---
Optional Enterprise English Workshops
(Available all locations)
Workshop objectives
All students aged 16 & 17 who are B1 level and above have the option to do a weekly Enterprise English workshop or seminar during activity sessions. These sessions aim to equip students with practical skills that may be useful for those wishing to work in an English-speaking environment in the future.
Enterprise English course information:
An optional 3 hours Enterprise English per week (in addition to 15 hrs General English or Inspiration English)
Skills based workshops or seminar focusing on the world of work and including interview skills, CV and cover letter writing and work based role plays
Available in all centres on all dates at no additional cost
Ages: 16 – 17
Levels: B1 – C2
Dates: Available every week
Enterprise English workshops may take place during daytime or evening activity sessions.
Enterprise English must be booked in writing before 31st May 2022
Included in the package price
---
Trinity GESE Exam
Included in the package price on all our Summer School General English Courses (minimum stay 2 weeks)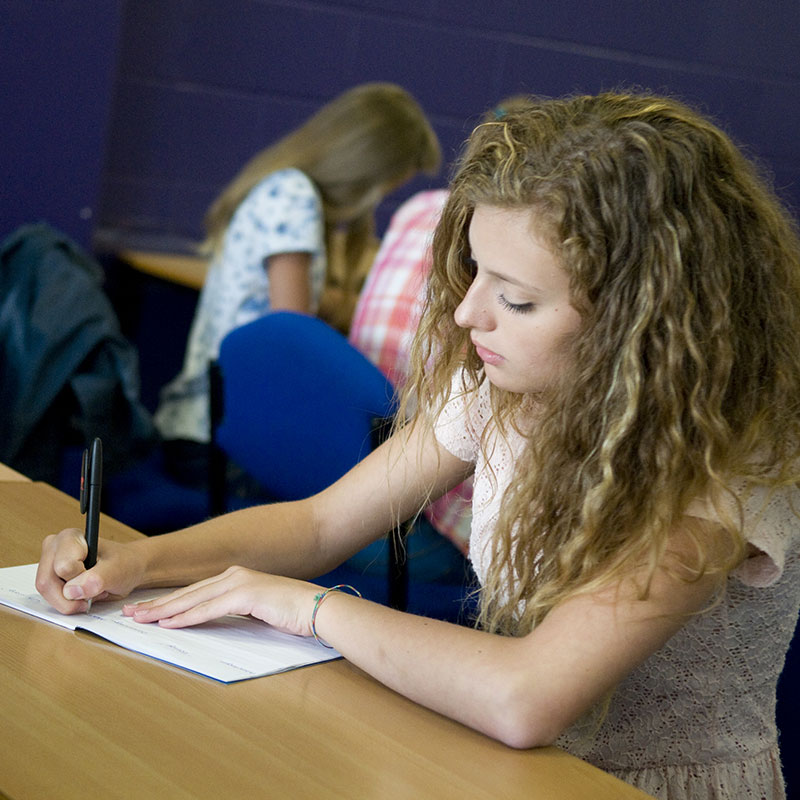 All students on our General English Summer course have the option to take the Trinity GESE (Graded Exam in Spoken English) during their stay with us.
Available in all centres

Minimum course length 2 weeks

Ages 10 – 1

7

Open to all levels from A1 – C2

Exam preparation in class, exam fee and certificate postage included in

the package price

Successful candidates will receive an official Trinity College London certificate approximately 8 – 12 weeks after departure
Trinity GESE Exam information
The exam tests students' ability in listening and speaking. It is a one-to-one oral exam with an official examiner. There are 12 grades available from pre-A1 to C2 CEFR level, so there is a grade to suit every candidate. The exam lasts between 5 – 25 minutes depending on the grade. Trinity GESE is an internationally recognised certificate in English language competency.
---
Our Academic Team
All Target English International teachers and other academic staff are recruited in line with British Council guidelines. Teachers are supported at each campus by the Director of Studies (DOS), who is responsible for managing the academic programme in their centre. The Director of Studies job includes managing testing & timetabling, offering support and guidance to teachers, managing the resources and helping to ensure the British Council criteria on teaching & learning are met.
Our Trinity Exam Coordinators (TEC) are responsible for the successful management and coordination of the Trinity Exam at their centre. The TEC works closely with the DOS to provide support and guidance for teachers & group leaders, and liaises with our Head Office Exam Coordinator and Trinity examiners to ensure the smooth running of the Trinity Exam.
Each Director of Studies and their team is supported by one of our Area Academic Managers who make regular visits to each centre during the summer. The Area Academic Managers are responsible for working with each DOS in observing all teachers in the classroom and providing feedback and professional development as required.
Overseeing all of our centres and academic staff is our senior Academic Manager, who is responsible for syllabus and material development and working towards consistent standards of provision across all of our centres.
In line with safer recruitment for roles involving responsibility for, or substantial access to, under 18s, all gaps in employment history must be explained, at least two satisfactory references will be requested and followed up on, and all staff will undergo appropriate safeguarding and background checks. (Enhanced DBS check required for all staff members and the overseas equivalent for those staff members not normally resident in the UK).