Our Activity Programme
Our activity programmes are specifically designed to include a balanced mix of sports, activities, workshops, local visits and excursions to ensure our students have fun, make friends, practise their English and learn more about British culture & heritage.
We aim for students to maximise their use of English outside of the classroom and this is achieved through participating in activities, interacting with our staff, making friends with other students, and also through our Activity Books, which support students' language learning.
We also offer optional drama & yoga Workshops every week in all locations at no additional charge.
---
Sample Activity Programme
Morning and afternoon teaching timetable operates in peak weeks. Students alternate weekly between morning classes/activities and afternoon classes/activities. (Excludes Hatfield where lessons are morning only and activities are afternoons only throughout the course)
Daytime activities between 09:00-12:30 or 14:00-17:30. Evening activities between 19.30 – 22.00. Exact times may vary dependent on campus.
| | 09:00 – 12:30 | 14:00 – 17:30 | 19:30 – 22:00 |
| --- | --- | --- | --- |
| Sun | Transfer on arrival to centre | | Welcome Party |
| Mon | Lessons | Orientation & walking tour of city centre | Quiz Night |
| Tue | Lessons | Sports, activities and workshops | Team Games Night |
| Wed | Lessons | Half day excursion by coach | Murder Mystery |
| Thu | Lessons | Sports, activities and workshops | Disco |
| Fri | Lessons | Local visit | Let's Dance |
| Sat | Full day excursion by coach | | Late Return & Dinner Out |
| Sun | Full day excursion by coach | | Film Night |
| Mon | Local visit | Lessons | Talent Show |
| Tue | Sports, activities and workshops | Lessons | Scavenger Hunt |
| Wed | Half day excursion by coach | Lessons | Karaoke |
| Thu | Sports, activities and workshops | Lessons | Disco |
| Fri | Local visit | Lessons | Sports Tournament |
| Sat | Full day excursion by coach | | Fashion Show |
| Sun | Transfer and departure | | |
Please refer to the sample activity programmes for each centre which can be downloaded from the centre page. We will endeavour to follow the sample programme as closely as possible but please note that all sample programmes may be subject to change.
---
Excursions
We believe an important aspect of the study holiday is that students learn about the local history and culture of the area in which they are staying. As such, we put a lot of importance on well-organised and informative trips to places of historic and cultural interest.
We include:
3 full day excursions per 2 weeks
Minimum 1 half-day excursion (or premium entrance) per week
Minimum 2 half day local visits per week
Activity Book packed full of information & tasks to complete
All entrance fees and travel costs as required for the programme
Most programmes include one full-day excursion with late return & dinner out to enable students to spend more time at the destination
---
Activity Books
All students receive one of our unique, full colour, centre specific Activity Books at the start of their course and should bring this with them on all excursions and local visits.
Designed to complement the excursion programme and enhance the language learning experience
Packed full of information about the places students will visit
Wide variety of English language activities for students to complete during or after the trip
This colourful and informative guide also makes a souvenir of their study holiday
Families can see what their children have done on their study holiday
---
Sports & On-Campus activities
We organise a mix of sports and other activities on campus so that students can make friends, practise their English, keep fit and have fun. All activity sessions are supervised by Target staff.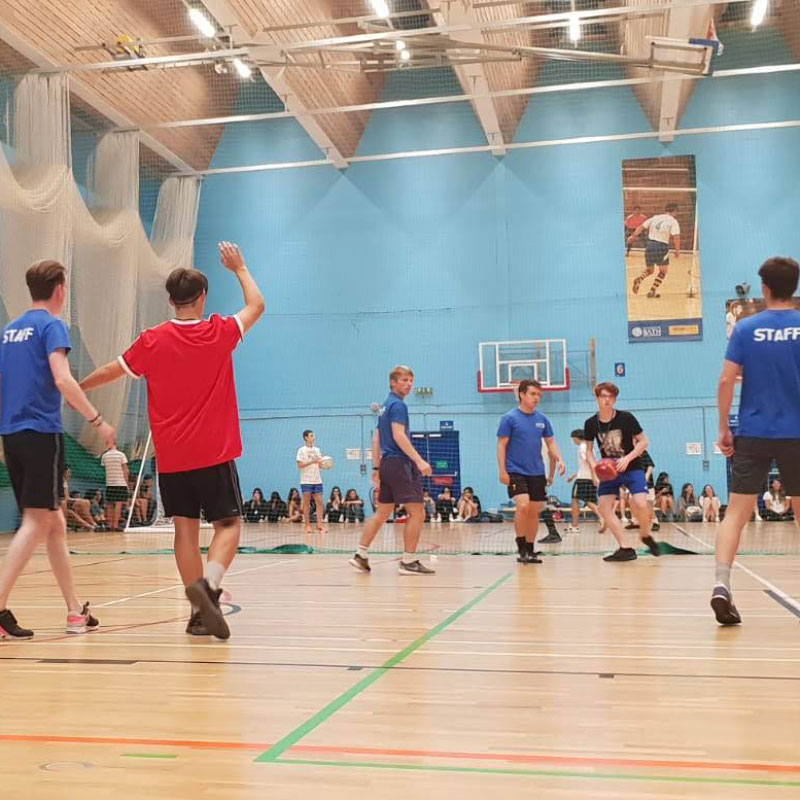 Usually two or three daytime sports & activities sessions per week, depending on centre
Sports may include football, basketball, tennis, volleyball, rounders, swimming and beach volleyball, depending on the facilities available
Other daytime activities may include drama, yoga, scavenger hunts, arts & crafts, film & photography projects, talent show preparation etc
Evening activities may include discos, quizzes, fashion shows, talent shows, treasure hunts, karaoke and more
---
Drama & Yoga Workshops
Optional drama and yoga workshops are offered weekly in all locations and are included in the package price.
Each 60 – 90 minute workshop is a stand-alone class
Workshops take place during the day as an alternative to sports or in the evenings
Students can sign up for the workshops at the centre
Workshops are suitable for all levels including beginners
All students have the opportunity to sign up for at least 1 x 90 minute drama workshop and 1 x 60 minute yoga workshop per week
---
Activity Staff
Students are supervised by Activity Leaders on all our trips and excursions as well as during all on-site activities. Our Activity Leaders are usually undergraduate students who are interested in working with young international students.
Activity leaders are required to follow strict guidelines on supervision and safeguarding as well as motivating students, being friendly, informative and supportive.
All Activity Leaders complete online Level 1 Safeguarding training.
All activity staff are invited to attend an induction and training weekend, which includes a 3-hour First Aid course, before taking up their post with us. In addition, all activity staff receive a full on-site induction with the centre management team.
In each centre there is an Activity Manager who is responsible for coordinating the programme and managing the Activity Team. In larger centres a Senior Activity Leader will support the Activity Manager.